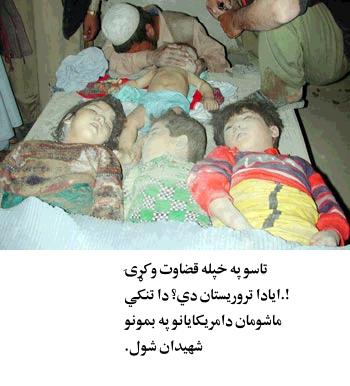 Afghan Truth Commission Requested
KABUL , Afghanistan, 3/10/2002 (AP Wire) :: U.N. human rights chief Mary Robinson on Sunday said a proposed truth commission in Afghanistan must investigate atrocities committed by all factions, not just the ousted Taliban.

"It's not acceptable in the context of Afghanistan to look at a partial truth," Robinson told reporters in the Afghan capital of Kabul.

On Saturday, she and Afghan interim leader Hamid Karzai endorsed the idea of a truth commission to uncover atrocities committed over two decades of war.

But Karzai's government may be too fragile to withstand an investigation into abuses by those currently in power, especially members of the northern alliance who fought the Taliban but who were themselves accused of human rights violations.

When northern alliance members held power from 1992-1996, they destroyed much of Kabul in factional fighting that killed thousands.

Robinson acknowledged this was a concern, saying Afghanistan must pursue the dual goals of maintaining stability while at the same begin reversing the "culture of impunity and violence."

A human rights conference in Kabul on Saturday was attended by U.N. officials, Afghan leaders and human rights activists, including Bianca Jagger.

Its purpose was to find ways to implement the human rights provisions of last December's agreement in Bonn, Germany, setting up Karzai's interim government. That administration is supposed to rule until June, when a grand council will be set up to choose a new government ahead of elections in 2003.

Many are hoping that last year's routing of the Taliban can reverse decades of human rights violations and start the country on the path to peace. Yet those efforts will likely require forming a viable central government free of factional fighting and warlord rule that still plague much of Afghanistan.



New Evidence of Violence Against Pashtuns
New York, USA, 3/8/2002 (Human Rights Watch ) :: Afghanistan: Stop Abuse in Northern Afghanistan

Human Rights Watch today released recent testimonies documenting abuses against ethnic Pashtuns in northern Afghanistan, and warned that the deployment of an expanded international security force was needed to end a campaign of violence and intimidation there.

"Our research found that Pashtuns throughout northern Afghanistan are facing serious abuse, including beatings, killings, rapes, and widespread looting," said Peter Bouckaert, senior researcher for Human Rights Watch. "The interim Afghan government will need much greater support from the international community to bring security and stability to the north."
Human Rights Watch today released a selection of recent testimonies documenting abuses in northern Afghanistan, and a comprehensive report is forthcoming.

Human Rights Watch researchers have just completed four weeks of research in northern Afghanistan, visiting dozens of villages and communities affected by violence and looting. Their research established that the three armed political factions currently in power in northern Afghanistan-Junbish-i Milli-yi Islami, Jamiat-e Islami, and Hizb-i Wahdat-are subjecting ethnic Pashtuns to murder, beatings, sexual violence, abductions, looting, and extortion.



UN seeks to end Afghan abuses
3/7/2002 (BBC) :: UN human rights commissioner Mary Robinson is due in Afghanistan on Thursday as reports emerge of horrific abuses against the ethnic Pashtun population.

Mrs Robinson is to spend four days in the country talking to senior officials and overseeing the launch of a human rights commission, reports said.

The former Irish president, who was vocal in her criticism of the number of civilian casualties of the US-led bombing campaign, will meet interim Afghan leader Hamid Karzai.

Her visit comes hours after the release of a Human Rights Watch report, detailing horrific rights abuses by Northern Alliance forces in northern Afghanistan.

The US-based group warned that an expanded international security force was needed to end a vicious campaign of violence and intimidation there.

'Serious abuse'

The independent commission that Mrs Robinson will be initiating was enshrined in the Bonn accords which set up the interim government that took power in December.

Its role will be to monitor and safeguard human rights in Afghanistan.

But since the fall of the Taleban last November, commanders from each of the three factions of the Northern Alliance have been accused of atrocities.

"Our research found that Pashtuns throughout northern Afghanistan are facing serious abuse, including beatings, killings, rapes, and widespread looting," said Peter Bouckaert, senior researcher for Human Rights Watch.

Three factions - ethnic Tajik, Uzbek and Hazara - captured territory around the northern city of Mazar-e-Sharif along with US forces.

Pashtuns would have been targeted because the Taleban were Pashtun, correspondents say.

Harrowing testimony

Human Rights Watch researchers spent four weeks visiting dozens of villages and communities affected by violence and looting.

The testimonies that they collected make harrowing reading.

"They took all the women and girls to another room and started with my fourteen-year-old daughter," said one 30-year-old Pasthun woman.

The soldiers were from the ethnic Hazara Hezb-i-Wahdat faction, the report says.

"She was crying a lot and imploring them not to do this because she is a virgin," the woman said.

"But one of the men threatened her with his gun and said he would kill her if she did not undress. She was raped three times."

The soldiers then raped the mother, looted her home and beat her invalid husband unconscious, Human Rights Watch says.

More support

"The interim Afghan government will need much greater support from the international community to bring security and stability to the north," Mr Bouckaert said.

The International Security Force (ISAF) in Afghanistan is still only deployed in Kabul.

The force has begun training the first unit of a national army, which will be charged with eventually disarming as many faction fighters as possible.

But given the increasingly fragile security environment, calls are mounting from within Afghanistan for an expansion of the numbers and the mandate of the international force.

The calls have in turn sparked fears among some member countries of the international force of so-called 'mission creep'.

British Prime Minister Tony Blair has faced opposition allegations at home that Britain put troops into the Afghan peacekeeping mission without knowing how to get them out.

Talks are under way between Britain and Turkey aimed at handing leadership of ISAF over to Ankara.

But Mr Blair has conceded that UK troops could still be taking the leading role in the International Security Assistance Force (ISAF) in Afghanistan after their withdrawal deadline of 30 April.



UN Condemns Attacks On Ethnic Pashtuns
Reported by: Charles Recknagel

3/14/2002 (Radio Free Europe/Radio Liberty Prague) :: A recent visit by UN High Commissioner for Human Rights Mary Robinson to northern Afghanistan has fanned a dispute over the extent to which the ethnic Pashtun minority there is being targeted for reprisals by ethnic Tajiks and Uzbeks. The UN rights chief says she was shocked by victims' accounts during her tour in early March. But the Afghan interim administration says reports of abuses are widely exaggerated.

Reports of violence against northern Afghanistan's minority Pashtun community have appeared in the Western press periodically ever since the collapse of the Taliban in late 2001.

The news reports from correspondents traveling in the area say that the attacks occur as factions that opposed the Taliban have carried out campaigns to disarm the Pashtun in areas the fundamentalist militia once controlled. The north's approximately 1 million Pashtuns enjoyed considerable protection under the Taliban -- a movement which itself was Pashtun-dominated -- and they were often regarded as an enemy by the region's majority ethnic Tajik, Hazara and Uzbek populations.

In late January, "The New York Times" reported that thousands of Pashtuns from the northern provinces of Balkh and Faryab had fled their villages as news spread that ethnic Uzbek and Hazara fighters were looting, raping, and kidnapping, under the guise of disarming Pashtun communities. Some of those fleeing their homes told the newspaper that the goal of the attacks sometimes appeared to be clearing the area of the Pashtuns altogether.

But, as with so many events in Afghanistan, hard facts regarding the number of incidents are difficult to obtain. The north's Pashtun minority is concentrated around the agricultural cities of Kondoz and Balkh, and the reported attacks take place in remote villages visited infrequently by journalists.

That is why many Western observers are now paying close attention to a recent visit to the area by Mary Robinson, the head of the UN High Commission for Human Rights. Robinson traveled to Mazar-i-Sharif, then extended her itinerary to also visit the town of Balkh nearby. The reason for the extension was what she called her "shock" at the number of people who personally told her of violence they had suffered.

Robinson described her trip to reporters yesterday in a press conference in Islamabad. She said that in Mazar-i-Sharif she met with some 30 men who said they were the targets of ethnic-based reprisals. As a result of that meeting, she proceeded to Balkh to talk with several women who said they had been raped in the attacks.

The UN Human Rights chief told reporters, "the violations were extremely serious. Killings, physical beatings, rape of women, taking animals, 1,000 sheep in one village, looting, taking everything out of houses."

In the wake of Robinson's remarks, the Afghan interim administration said yesterday it is taking "very seriously" any reports of ethnic-based violence in the north. Spokesman Yusuf Nuristani said in Kabul that interim administration chief Hamid Karzai had previously dispatched senior investigators to the region to look into the reports.

But the spokesman also said the central government believes the international media has exaggerated reports of the violence. Nuristani said, "There might be some incidents, some minor incidents, because we are coming out of 23 years of war." He also said that three top commanders in the north -- General Abdul Rashid Dostum, Ustad Atta Mohammad, and Haji Mohammad Mohaqeq -- have promised to prevent any such attacks from occurring.

Some of the northern commanders themselves also have called the reports of ethnic-based violence and people fleeing their homes exaggerated. Dostum told RFE/RL's Turkmen Service recently that the situation in the north is calm.

"We are surprised, too. Sometimes untrue reports get transmitted. There have also been reports that the security is not good in the north, that there is war between people and factions," Dostum said. "I would like to reassure you that the situation in the north is good, and things are becoming calm."

UN refugee officials say they have been receiving sporadic reports of abuses in the north from refugees fleeing to Pakistan over the past several months.

Peter Kessler, a spokesman for the UN High Commissioner for Refugees in Geneva, told RFE/RL today that some 60,000 people have crossed or applied to cross the Pakistani border since the start of the year. He said only a small percentage of that total are from the north, but some of those say they are fleeing ethnic attacks.

"Most of [the refugees entering Pakistan] are desperate Afghans fleeing a lack of food in many remote areas in the countryside. Others are people who report attacks by bandits, and some are minority groups, mainly Pashtuns, who say that they feared reports of ethnic violence or themselves may have been persecuted by groups in the north of the country," Kessler said. "But these people who have brought with them reports of ethnic attacks represent the vast minority of those Afghans who have arrived in Pakistan in recent months."

The UNHCR has expressed concern about the reports of ethnically motivated violence to the authorities in Kabul. The agency also has provided transportation assistance to investigators dispatched to the north by the interim administration to help them better assess the problem.

UN Human Rights chief Robinson called for expanding the multinational force beyond Kabul to help increase security in the country. Speaking in the Afghan capital on 8 March, she said: "I think that the international force that is here must be extended beyond Kabul, and that's very clear when you're here. I'm going to Mazar-i-Sharif on Sunday [10 March], and I know that that's the message that I will be asked to convey, because you cannot have rebuilding of a whole society and security for Human Rights if you have violence, if you have killings, if you have robberies, if you have looting, if you have women terrified."

Robinson also said that a proposed truth commission in Afghanistan should investigate atrocities committed by all factions -- not just the ousted Taliban. The commission, which has been endorsed by the interim administration, would investigate civilian killings and Human Rights abuses committed during the country's past two decades of war.




Vengeance Is Taking Its Toll in Wake of Taliban
Reported by: GEOFFREY MOHAN

BARGAH, Afghanistan , 3/3/2002 (LA TIMES) :: The killing began at 10 a.m. on the 20th day of the Muslim holy month of Ramadan. Four hours later, 37 Pushtun villagers had been dragged from their homes and slain by paramilitary forces from the rival Hazara ethnic group.

The roving executioners tore away in four-wheel-drive pickups, leaving no explanation for their pillaging on that day in early December. But witness accounts as well as similar stories from remote Pushtun villages strung across Afghanistan's arid northern plains paint a brutal portrait of ethnically motivated revenge attacks against the group most closely associated with the fallen Taliban regime.

Since December, Pushtuns have been fleeing their villages across the north, long the bastion of the anti-Taliban Northern Alliance. They began showing up by the thousands in faraway refugee camps on the southeastern border with Pakistan throughout January and February, according to the Office of the United Nations High Commissioner for Refugees.

An unknown number are simply blending into other villages or major cities, according to aid workers, U.N. officials and Pushtun villagers who spoke with The Times.

"We're getting reports of 'ethnic cleansing' in the north, where ethnic Pushtuns are being pushed out" by other ethnic groups, said Mohammed Adar, senior emergency coordinator for the U.N. refugee agency in Peshawar, Pakistan.

Another top U.N. official warned that the problem threatens to undermine Afghanistan's fragile peace process.

"There's a very systematic practice, which has happened regionwide, where Pushtuns are being targeted," said the U.N. official, who requested anonymity. "I hear from people in Kabul that the peace process is fragile and we have to protect it. But at what cost? If we don't address this, we are just pruning the branches."

Factional fighting tore Afghanistan apart after the fall of the Soviet-backed regime in 1992 and paved the way for the Taliban to take power. Many fear that with the Taliban gone, the truce among ethnically divided parties whose members worked together to defeat the Taliban is slowly giving way to the era of cyclical massacres and retribution.

That is especially feared here in Chimtal district, where the minority Pushtuns had readily allied themselves with the Taliban.

There is plenty of bitter history between the Pushtuns and Hazaras. Thousands of Hazaras, a minority of the Shiite Muslim sect, were wiped out by the Taliban, who brought a draconian interpretation of the Sunni Muslim faith into a region dominated by a mix of Pushtuns, Uzbeks, Tajiks and Hazaras.

A pit outside the northern capital, Mazar-i-Sharif, has revealed hundreds of Hazara bodies, testimony to the Taliban's revenge on them for the thousands the regime lost in battles for the city in the '90s.

Bargah paid for that brutality with 37 lives, according to villagers here.

A crowd of men stood outside the baked mud walls of the village this week, gesturing angrily at the graves of the victims, marked by traditional flags already torn by the cold desert winds.

"I am from another village, and I was a guest here," Mohammed Ghafur said. "I buried a lot of people. When the women looked over the walls, they shot at them. I saw them put a gun in a man's mouth and shoot him."

Inside a home, a woman who goes by the single name Makai held the cap that her son was wearing when he was killed, its embroidered fabric torn open where one of the paramilitary soldiers slashed him with a bayonet. Like many of the women, Makai threw herself between the killers and the victims. But she could save only one son. Her other son and her husband were dragged out and shot.

"They shut all the women in one room, and they shot my husband right outside. And my son they shot in front of the house," Makai said. She clutched her surviving son, Abdul Bashir, 15, and grabbed at the shirt of a village elder, acting out the drama. "When they pointed the guns at my son, I grabbed the commander's collar and said, 'Don't kill him,' " she said.

Village elder Khan Wulus said about 300 men participated in the carnage, also taking three cars, two tractors, a motorcycle and six horses, as well as most of the wheat the villagers had stored. They would have taken a third tractor, he said, but it wouldn't start.

At first, they demanded guns, but the villagers had already surrendered their weapons to an Uzbek militia. Wulus held up a handwritten note from an Uzbek commander.

"These gentle people surrendered their weapons," it read, giving an Arabic calendar date nearly a month before the massacre.

Villagers said that they fell in with the Taliban when the regime swept through the north but that they were never politically active.

"During the Taliban, we were ordinary people, taking care of our cows and crops. We didn't know anything about politics," said Haji Raz Mohammed, a village elder.

Local Hazara commanders avoid questions about who was responsible for the Bargah massacre, even as they blame Pushtuns for past atrocities.

"Yes, that's right, something happened," said Hazara commander Rajab, who controls a large swath of Chimtal district. "But when the Taliban first came, there were 2,000 Hazara families in Chimtal. These Pushtun people killed about 300 Hazara people and put 500 in jail. They looted the Hazara people's houses. They looted my house and knocked down the walls. . . . They killed about 300 people, and we killed maybe 10. We took cattle from dead people, but it was cattle they had taken from us."

Rajab waved off questions of who was responsible for the December killings.

"No one knows who did this," he said. "But these people who are living in Bargah now--in the time of the Taliban, they oppressed people, they looted houses, and they raped people."

After the attack by the Hazaras, Bargah sought protection from the predominantly Uzbek militia led by Gen. Rashid Dostum.

The town's neighbors just five miles northeast, in Tagabi, made a different choice. After an Uzbek militia looted their homes in early December, they requested protection from the Hazaras.

Such choices have become common, as Pushtuns seek shelter with the group that appears to be their lesser enemy and the factional leaders vie for their loyalties--and a larger sphere of influence when the political lines of Afghanistan are redrawn.

Other Pushtuns simply left, although no aid agency here has tracked their numbers. Tagabi lost nearly half its 60 Pushtun families, and the remainder are too afraid to pasture their sheep in distant, rain-fed grasslands where they say Uzbek bandits prowl.


They've resorted to raising a reliable crop that uses less water in these times of drought: the opium poppy, once banned by the Taliban. Villagers showed several acres of the hardy plant, its first leaves already spread out to the size of a hand.

"If it goes on like this, we'll leave and go to the city, someplace where we are secure," said Tagabi resident Abdul Ghafar.

But even Mazar-i-Sharif isn't safe for Pushtuns, aid workers say. Displaced villagers who had set up camp next to another refugee village in Mazar were attacked as soon as the city fell, according to aid workers. Many have wandered off to unknown destinies.

"As soon as the Taliban fell, people attacked them," said Ahmed Idrees Rahmani, a deputy field coordinator for the International Rescue Committee. Most were from Chimtal district, Rahmani said.

"After the fall, the whole population became suspect," he said.

Out in these desert villages, residents are jittery. In one small settlement near Bargah, a Hazara militiaman barely in his teens chased a reporter's vehicle, firing shots at it, while another aimed a rocket-propelled grenade launcher, forcing the vehicle to stop.

"I didn't realize you were Americans," the Hazara militia member offered apologetically.

"The situation is dangerous around here," he added.

The Pushtuns aren't the only casualties of warlord feuding. Battles over territory since the fall of the Taliban are claiming victims from all sides, particularly around Mazar-i-Sharif. But although observers here write off the urban violence as jousting among political parties that are at least nominally multiethnic, out in the countryside, the skirmishes smack of ethnic warfare.

"In Mazar, things happen not just because of local politics but generational animosity," the U.N. official said. "Sometimes it's money, and sometimes it's politics. But outside Mazar, it's strictly ethnic."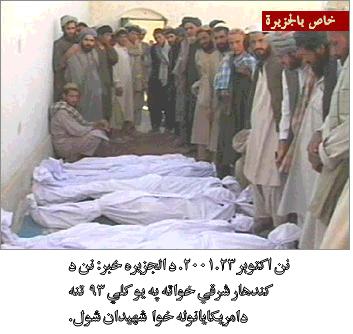 Warlord's men commit rape in revenge against Taliban
Reported by: DAvid Filipov

BALKH, Afghanistan, 2/24/2002 (Boston Globe) :: In a country where women have long lived in the shadows, rape is an especially potent political weapon. To this, the women of northern Afghanistan can attest - at least those who dare speak publicly.

The ouster of the Taliban by the US-backed Northern Alliance did not stop the use of rape as a way to demoralize and dominate. But what has changed since the fall is the identity of the victims, now mostly Pashtun families and displaced people living in camps, the losers following the defeat of the Pashtun-dominated Taliban.

The crime is perpetrated, say victims and aid workers, by the men who answer to warlord Abdul Rashid Dostum, a Northern Alliance commander whose 3,000-man army, Junbish-e-Millie, now rules much of the country's north.

Most women are too afraid and ashamed to talk about being raped. But, Nazu, a Pashtun mother of 10, was willing to describe what happened to her, and to her girls.

It was, she said, a little over a month ago. She had put her children to bed when five heavily armed Junbish soldiers burst into their modest compound in Balkh, 12 miles west of Mazar-e-Sharif.

Over the next eight hours, she said, one soldier held her crippled husband, Jamaludin, at gunpoint as the others took her three oldest girls into the room and raped them repeatedly - first Fatima, 14, then Bibi Aisha, 12, and then Bibi Amena, 10. Then they came for Nazu.

''The soldier pointed a gun at me. He told me I was a Pashtun,'' Nazu, 40, said as she and her daughters crouched against the dusty wall of their home, faces partially hidden behind scarves, their eyes lowered.

''I was afraid. I could not resist. I am a woman, and they had guns. I could not stop them.''

Officials deny attacks; local police powerless

Pashtun leaders and foreign aid workers say the assault on Nazu and her daughters is only one example in a horrifying trend.

Pashtuns, an ethnic group that made up the bulk of the Taliban, say Junbish soldiers have committed rape as part of their reprisals against the people they blame for the regime's oppressive rule.

Pashtun families in Balkh have not been the only victims. Three weeks ago, Junbish soldiers, who rule much of northern Afghanistan, rampaged through the outskirts of Dawlatabad, 20 miles north of Mazar-e-Sharif. Nur Mohammad, a local Pashtun leader, said 30 houses were attacked.

''Women were assaulted, but none of them will talk to you,'' he said.

At the Sakhi camp for displaced people outside Mazar-e-Sharif, armed Junbish have raped dozens of women since the Taliban left last November, local and foreign aid workers say.

''This is a problem that needs to be investigated,'' said one, on the condition he not be named.

The trouble is that foreign aid agencies depend on the local commanders - Dostum, ethnic Hazara leader Mohammad Mohaqiq, and ethnic Tajik leader Ustad Atta Mohammad - to do their jobs. Borders, roads, warehouses, even the buildings foreign organizations rent, are all under the control of the warlords.

Dostum's security officers routinely harass anyone who appears to be asking too many of the wrong questions.

Meanwhile, General Shakh Zoda, a Dostum aide, denied that Junbish soldiers had assaulted civilians. Mohammad Isa Eftekhari, the government-appointed police chief for Mazar-e-Sharif and the surrounding area, also told the Globe he had no knowledge of any attacks on civilians.

In this atmosphere of denial, local police are powerless to do anything. The police force in the town of Balkh numbers 110 men; the Junbish have more than 700 armed men in the town.

''If someone told you about a terrible crime the Junbish committed, what guarantees of protection could you give them?'' asked one Afghan who works for a foreign aid organization. ''We can't do anything because we have no power.''

Amir Hamza, the ethnic Tajik police chief of Balkh, agreed.

''Junbish commanders protect their soldiers from us,'' he said.

He said it was likely that many more Pashtun women had been raped, but they were afraid to tell anyone. ''It is also possible that some women do not want to discuss this crime with anyone. They are ashamed.''

Threatened and ashamed, victims remain silent

Rape has been used as a weapon of terror in other wars throughout history, most recently in the Balkans. In Kosovo, ethnic Albanian women who were raped by Serb soldiers were evicted when their families found out.

One of the bloodiest and most violent chapters in recent Afghan history occurred when Taliban fighters captured Mazar-e-Sharif in August 1998. In a few days more civilians were killed, and murdered and raped, than at any time in the previous 20 years of war in Afghanistan.

Now, like then, women who are victims of assault are pressured to be silent. Even with the liberation of Afghanistan from Taliban rule, the culture of oppression is slow to change. Especially in the north, women are expected to stay at home and never speak to strangers.

''Many times the Junbish committed these crimes, but Pashtun women have pride and they cannot tell people,'' said one villager.

Pashtun families make easy targets because the Junbish disarmed many of them when Dostum's troops, assisted by US special forces who continue to accompany the warlord everywhere, drove out the Taliban.

''The Junbish see a home, and they know there are Pashtuns living there, and they go inside and rape the women and threaten the men not to talk about it,'' said Amir Jan, the leader of the Pashtun community in the Balkh area. ''They know no one can do anything about it.''

Nazu was also afraid to speak out, and for good reason. The day after the soldiers assaulted her and her daughters, the soldiers came back and told the terror-stricken family that if they repeated this story to anyone, they would die. Jamaludin went to the police anyway, but he was told that they could not do anything.

It was Nazu's neighbor Safi Nubi who tried to get the police to investigate the assault on Nazu and her daughters. They arrested one man but set him free soon after. One of the assailants on Jamaludin's family lives nearby and still roams freely with the Junbish. Also because of this, Nubi said, many more women who have been raped are afraid to come forward.

''If Junbish soldiers commit a crime, the Junbish is very strong,'' Nubi said as tears welled in his eyes. ''The police cannot do anything. These people are afraid. They think that the Junbish will kill them.''

Jamaludin said he was too ashamed to take his wife and children to the hospital after the assault. When the government in Kabul sent a woman doctor to Balkh 20 days ago, he considered taking them, but he did not have any money; the soldiers had stolen it.

''We aren't feeling very well,'' said Nazu as she nursed her infant girl. ''It is shameful for us to explain.''

Her daughters looked on. It was hard to say whether the 10-year-old, Bibi Amena, understood what had happened to her. It was Fatima, 14, who spoke, revealing a young face covered in scars.

''Please help us,'' Fatima said, ''and take care of us.''